Sign up for our e-newsletter for all of the latest updates from Third Sector Company, including our latest published articles on nonprofit leadership, announcements about upcoming Learning Labs, and news from the greater nonprofit sector community.
See a sample newsletter below:
RAISING MONEY IN A NEW POLITICAL ERA
Third Sector Company CEO to Speak at AFP San Fernando Valley

Join the Discussion on September 7 in Sherman Oaks, California
The fundraising profession and the entire nonprofit sector has been lunged into uncharted waters as a new political landscape unfolds. Our new common reality, however, creates an exceptional opportunity to revisit some of the basic tenets of fundraising, what history has taught us about how money can talk, the role of fundraising as an advocacy tool, and the lens we can give to the important work of our organizations.
Jeffrey is a past president of the AFP Orange County Chapter and currently serves on the board of AFP Advancement Northwest in Seattle, WA. The former Senior Vice President of United Way of Greater Los Angeles and executive director of the CHOC Foundation at Children's Hospital of Orange County, Jeffrey plans an interactive session for sharing ideas with a call to action for each of us and our chapter to take a leading role in reshaping the future of shared human generosity.
Why not invite your executive director or members of your board to participate in this thought-provoking session?
JOIN THE DISCUSSION – SIGN UP NOW!
Thursday, September 7

11:30AM – 1:30PM
Courtyard Los Angeles Sherman Oaks – 15433 Ventura Boulevard
Los Angeles, CA 91403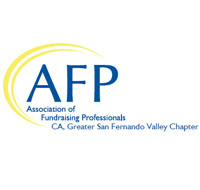 As a bonus, AFP-GSFV Board Member, Brian Davis, CFRE, will be speaking about the CFRE credential after Jeffrey's presentation.